WHAT IS A CATARACT AND WHAT ARE THE SYMPTOMS?
If you have a cataract, you are not alone. Cataracts are extremely common and can occur at any age. A cataract is cloudiness in the lens of the eye that can impair vision. With age, the proteins in the lens of the eye begin to break down and this causes the cataract. As the cataract develops, the cloudiness no longer allows the lens to properly focus light on the back of the eye, causing impaired vision.

HOW IS CATARACT DIAGNOSED?
An eye doctor can diagnose cataracts. Usually, the doctor will dilate the pupil and examine the lens using a special microscope to determine whether a cataract is present.

WHAT CAUSES CATARACTS?
Cataracts are most often related to age but other factors that can contribute to cataract formation include:

• Heredity
• Certain medications
• Previous eye surgery
• Injury or inflammation.
• Over-exposure to ultraviolet (UV) light
• Cigarette smoking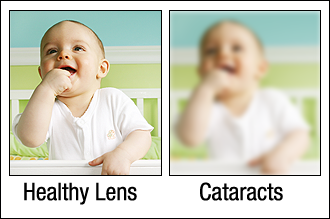 CAN A PERSON BECOME BLIND IF CATARACT SURGERY IS DELAYED?
Although vision can become severely impaired from advanced cataracts, vision usually can be restored after cataract surgery is performed. However, removing a dense cataract from the eye can be more difficult and can lead to post-operative complications. In rare circumstances, advanced cataracts can break apart in the eye leading to vision threatening conditions.

WHAT IS A LENS IMPLANT AND WHY IS IT USUALLY RECOMMEMDED?
After a cataract is removed, the eye lacks the lens that is needed to focus light. To restore this function, a plastic lens implant (also known as an intraocular lens) is inserted. Without an implant, very strong glasses would be necessary in order to have clear vision

ARE THERE DIFFERENT TYPES OF IMPLANTS?
Basic Monofcal Lens Implants:
This is the most basic type of lens implant used to correct vision after cataract surgery. For approximately the first thirty years, all lenses implanted into eyes were of this type. This lens is designed to restore the natural power of the lens, but only allows the surgeon to correct vision at one distance. For individuals who choose this implant, most request to have their distance vision corrected understanding that reading glasses will be needed after surgery.
Aspheric Lens Implants:
An Aspheric Lens Implant is a type of lens that is specifically designed to reduce visual disturbances caused by the optical aberrations found in ordinary lens implants. This can help reduce glare seen with traditional monofocal implants and can improve sharpness and contrast under certain lighting conditions. Patients who wish to have the best quality of distance vision may want to consider this implant, but need to remember that it can only correct one distance so reading glasses may still be needed after surgery.
Toric Lens Implants:
This implant can correct for corneal astigmatism. Astigmatism is an optical aberration that can be caused by an irregular shaped cornea. For cataract patients who have this type of astigmatism and do not want to wear glasses for distance after surgery, this type of implant can reduce the likelihood of needing corrective lenses. Toric implants are not designed to correct for near vision and reading glasses may be needed after surgery.
Multifocal Lens Implants:
In recent years, advances in lens technology have led to the development of multifocal intraocular lenses often referred to as premium implants. These lenses are designed to correct both near and far vision and reduce the likelihood of needing glasses after cataract surgery. There are several types of presbyopia correcting multifocal implants including: ReSTOR, Cyrstalens, and Tecnis. Each of these implants works in a different way to correct vision and they all have their advantages and disadvantages. Even with this type of implant, there is no guarantee that corrective lenses will not be needed after surgery.
HOW DO I KNOW WHICH IMPLANT IS RIGHT FOR ME?
At the conclusion of your examination, your surgeon will review with you the different type of implants that are best suited for you based upon the outcome of your exam and your visual needs.

WHAT NEEDS TO BE DONE IN PREPARATION FOR CATARACT SURGERY?
You will receive a complete eye examination, after which your eye care provider will counsel you about surgery and answer any questions you may have. If you wish to go ahead with surgery, a surgery date will be selected and your ultrasound test will be scheduled. You may be required to see your internist or family physician for a check-up or have the doctor provide the results of a recent physical. On the evening before surgery you will be asked to not eat or drink anything after midnight. It is helpful to get a good night's rest prior to surgery.

HOW IS A CATARACT REMOVED?
First your eye will be cleaned and dilated by the cataract surgeon and drops of a topical anesthetic will be used before a small incision is made. A ultrasonic probe is inserted into the small incision and it breaks apart the cataract and the fragments are then removed. Once the cataract has been removed, an intraocular lens will be placed into the small incision where it will permanently stay. The small incision is self-healing and in most cases, stiches are not required.

IS THERE ANY RISK?
Cataract surgery and IOL implantation are quite safe. As with any surgery, complications can occur. There is a possibility of hemorrhage or infection. Your eye doctor will discuss potential complications of cataract surgery and IOL implantation with you.

WHAT TYPE OF ANESTHESIA IS USED?
Surgery is done under local anesthesia. To help you feel relaxed and comfortable, an anesthesiologist will administer light sedation through an intravenous (IV) line. You will not notice any discomfort during the time of the injection or during the operation.

WILL I BE HOSPITALIZED?
Cataract surgery is an outpatient surgery and the entire process from check-in to departure is usually completed in several hours.

WHAT WILL I EXPERIENCE IN THE IMMEDIATE PERIOD AFTER SURGERY?
You may be slightly groggy during the first 24 hours after recovering from sedation. For this reason, you will need to ask a friend or relative to accompany you home on the day of your surgery. Most patients experience very little pain at all. If there is discomfort, it is usually mild and can be managed with Tylenol. It is common for the eye to feel scratchy and irritated for the first several days but try not to touch or rub your eyes. Your vision may be clear immediately after surgery, but it is common for some patients to experience blurred vision for a few weeks after the surgery. This will improve as time goes on.
WHAT IS THE SUCCESS RATE OF CATARACT SURGERY?
The chance of improved vision after cataract surgery is very high as long as there are no other eye or medical disorders that may limit vision.
ARE THERE ANY RESTRICTIONS ON DAILY ACTIVITIES?
You may resume "light" activities immediately. You may read, watch television, sleep, walk and eat without restriction. After the first day you can resume "moderate" activity with the exception of strenuous/aerobic exercise and bending. After one week, you can resume normal activities.
DO I STILL NEED GLASSES AFTER CARARACT SURGERY?
The majority of patients who have cataract surgery will need reading glasses after the procedure. In some cases, a distance correction may also be needed as well. For those patients who elect to have a premium implant, glasses may not be necessary after surgery. However, even with this type of implant there is no guarantee that the need for glasses can be completely eliminated.
WHEN CAN I RETURN TO WORK?
You can generally return to work one week after surgery.